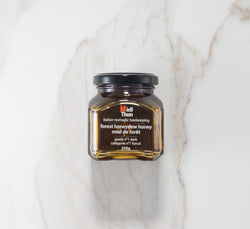 Mieli Thun Forest Honeydew Honey
A distinctive dark amber colour and has a marked aroma of spices like black pepper, juniper berries and cloves. Produced between July and August, it's not as sweet as other variations and has a notable melted brown sugar aftertaste.
Collected using nomadic beekeeping, a process by which beehives are transported to locations where specific flowers are in bloom so as to produce 'monofloral' honey, thus strongly reflecting a specific geographical region within Italy. 
250 g