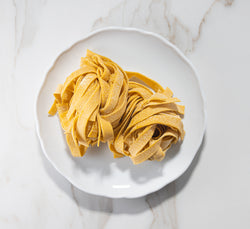 Italian for 'little ribbons', a flat, thick noodle (approximately 1 cm wide); narrower than, but similar to, tagliatelle. 
Made fresh daily.
Serving Suggestion: Sold in 100 g bundles, we suggest 1-2 bundles per person. Serve with one of our fresh, house made sauces; chef recommends Rosa or Alfredo. 

Ingredients: All purpose "00" flour, egg, egg yolk.