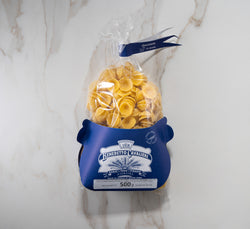 Benedetto Cavalieri Orecchiette
Italian for 'little ears', orecchiette is a pasta shape typical of Puglia in southern Italy. Made with semola di grano duro, bronze-extruded and slowly dried, this mix of shapes is ideal for catching thicker sauces with chunky vegetables, like broccoli rabe.
Since 1800, the Cavalieri family has grown wheat in the heart of Puglia. Today, the company is led by the family's fourth generation of pasta makers. Since 2005, Pastificio Benedetto Cavalieri has been designated a Learning Centre of Slow Food University of Gastronomic Sciences of Piemonte.
500 g