Caffè La Tana, located at 635 Commercial Drive in Little Italy, is an alimentari and caffè. We are open from 8am daily with a selection of breakfast items, coffee, and classic Italian pastries. For lunch, we serve fresh and stuffed pastas all made daily in house, as well as a selection of fresh seasonal items and panini. Enjoy your meal in our beautiful space reminiscent of the bygone caffès of Old World Italy. For your pantry needs, please stop by our alimentari or choose from a selection of pre-order items from our online store.

635 COMMERCIAL DR,
VANCOUVER, BC V5L 3W3

Sunday through Thursday: 8am–6pm
Friday and Saturday: 8am–5pm


Pranzo
Served Monday - Friday from 11am-3pm, Saturday & Sunday 10am-3pm. 
Breakfast sandwich – $9
Ace Bakery bun, soft scrambled egg with parsley, besciamella
ADD Prosciutto Cotto $3
ADD Roasted Tomato $2
Savio Marinated Olives $6
Selection of olives, bay leaf, lemon, chili, oregano, rosemary
Kale salad  $16
Kale, pecorino, pangrattato, lemon pepper dressing
Farro & chickpea salad $16
Farro, chickpeas, Italian dressing, pickled chili, capers, salsa verde
Burrata $22
Burrata, arugula-basil pesto, extra virgin olive oil, sliced filone
Spaghetti & meatball $20
Sunday sugo, Grana Padano, basil
Pasta del giorno MP
Please ask your server for today's selection
-
Pepino's Tiramisu $10
New York-Style Cheesecake with fruit compote $10
Bomboloni (featured weekends) $4.25-$4.75
Tiramisu Cream Puff (featured Thursdays only) $8
Chocolate chip cookie with maldon salt $3.50
Piattini & Pasta 
Served daily from 5pm - 10pm
Whipped Ricotta Crostino – $16
House Focaccia, San Pietro e Pettine White Truffle Acacia Honey, Truffles
Radicchio & Chicory Salad $15
Pickled Onion, Walnut, Gorgonzola Dressing
Saffron Arancini $5 per piece
Conservas de Cambados Cuttlefish Ink Aioli
Duck Croquettes $18
Red Wine, Black Pepper Aioli, Lambrusco Pickled Shallots
Honey Mussel Escabeche $20
Parsley, Sourdough, Saffon Aioli

'Mitch's Catch' Albacore Crudo $22
Calabrian Chili, Lemon, Basil Oil
Honeybush Squash Salad $19
Burrata Di Murgella, Overnight Onions, Pumpkin Seeds, White Wine Dressing
Carne Cruda $23
Horseradish, La Nicchia Caper Leaves, Crostini
"Oyama" Salumi & Formaggi $14/per person
Beef Cheek $27
Red Wine, Pickled Chanterelles, Mulino Marino Heirloom Polenta
Pasta del giorno MP
Please ask your server for today's selection
-
Crostata di Ricotta al Cioccolato $10
Candied Orange, Mint
Torta all'Olio d'Oliva  $12
Pine Syrup, Plum Conserva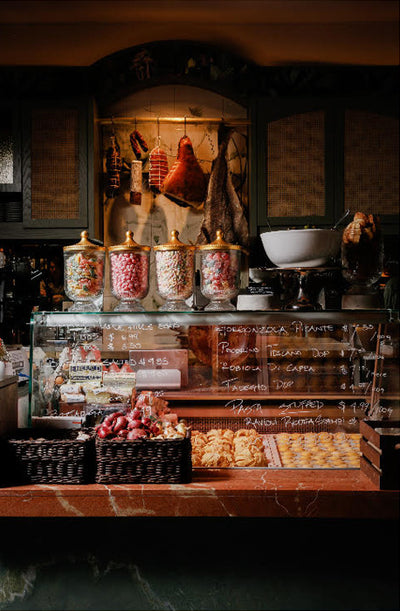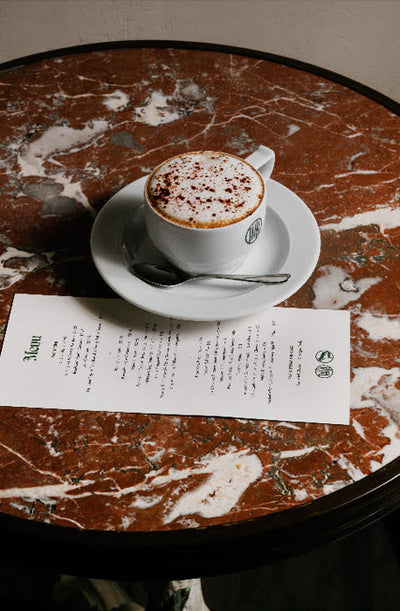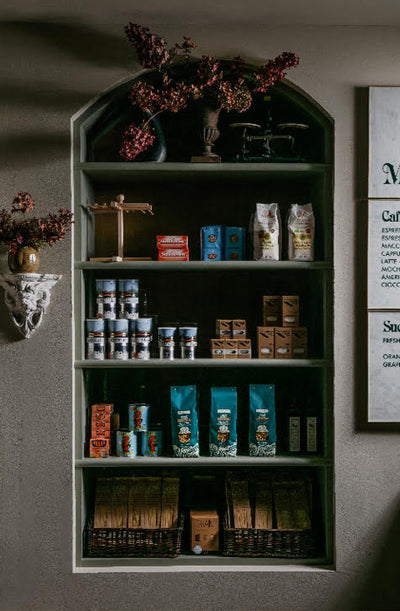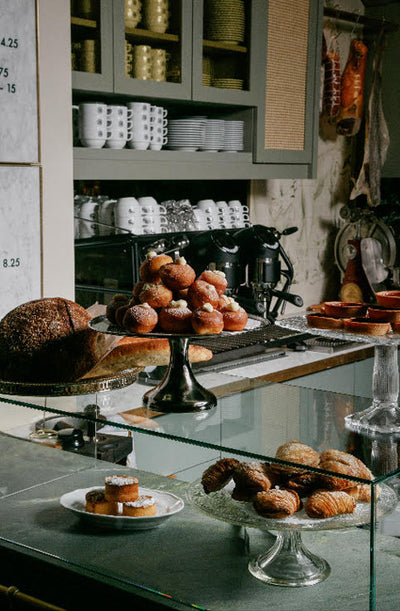 Caffè La Tana extends an old-world Italian intention to Vancouver.
Our Commercial Drive caffè is a neighbourhood spot for morning espresso and pastries, fresh 'pasta del giorno' for lunch, and wine-forward Vini Volpe evenings. For the domestic chef, we stock our alimentari with fresh pasta and pantry goods, both made in house and imported, to be savoured with family and friends, from our kitchen to yours.