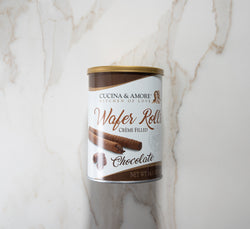 Cucina & Amore Wafer Rolls - Chocolate Cream Filled
European-style artisan wafer rolls generously filled with a rich and flavorful chocolate cream. These light wafers go well with tea, coffee, desserts, ice cream or as is.

Ingredients: sugar, wheat flour, coconut oil, defatted cocoa powder, whey powder, skim milk powder, soya flour, barley malt, soya lecithin, glucose syrup, vanilla and natural chocolate flavouring.
400 g