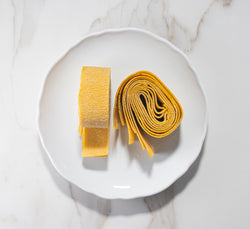 From the verb pappare, 'to gobble up' in Italian; a large, very broad and flat noodle (approximately 2-3 cm).
Made fresh daily.
Serving Suggestion: Sold in 100 g bundles, we suggest 1-2 bundles per person. Serve with one of our fresh, house made sauces; chef recommends Bolognese.
Ingredients: All purpose "00" flour, egg, egg yolk.