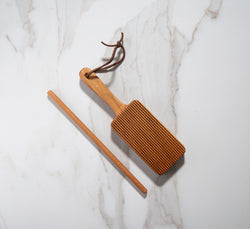 Gnocchi & Garganelli Board and Pin
Solid maple gnocchi and garganelli paddle. Each heirloom quality board is hand sanded and polished with love and care. Includes a matching 3/8" beech wood garganelli rolling pin.
Finished with a food grade mineral oil. Includes a linen storage pouch and leather string for hanging. 
Made in Vancouver.