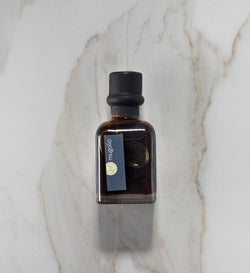 Primitivizia Mugolio Extract of Pinus Montana Miller (Pine Syrup)
Mugolio is a distinctive syrup created by forager Eleonora Cunaccia of Primitivizia in the heart of the Dolomite Alps National Park, in Trento, Italy.
Eleonora harvests pine cones and stores them in sun-drenched glass jars for a few months, coaxing out the sweet syrup from within. In late Autumn, the syrup is filtered and cooked with sugar to a deep golden brown liquid. With a rich, woodsy and honeyed flavour, this pine syrup complements fall produce like apples and pears; wild game and hearty meats; as well as creamy cheeses like ricotta and mascarpone.
Ingredients: water, sugar, pine bud extract.
100 ml