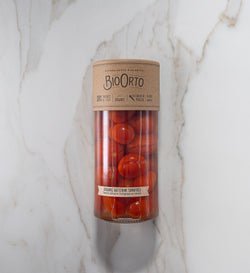 BioOrto Datterino Tomatoes
A date shaped tomato with a delicate and sweet taste grown organically on Gargano, a mountainous peninsula in the province of Foggia ~ also known as the "spur" of the Italian boot ~ and harvested by hand. Ideal for antipasti and bruschetta; cooked in light sauces and fish dishes; or simply enjoyed on its own as a snack.
Ingredients: Organic Datterino tomatoes, water, salt. 
550 ml