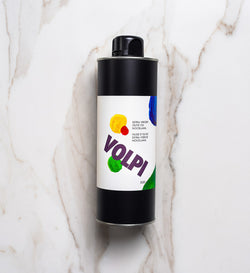 Volpi Extra Virgin Olive Oil
A collaboration with Mandranova in Sicily, 'Volpi' ~ Italian for foxes ~ is the private label extra virgin olive oil used in the kitchens of our famiglia of restaurants. 
Combining traditional knowledge with modern methods, Volpi is made from 100% Nocellara olives grown on the Mandranova farm, hand-picked from mid-September to the beginning of October, and crushed immediately after harvest. Green with golden hues, the oil is wonderfully fruity with the pleasant fragrance of freshly cut grass, artichokes and tomatoes, its spiciness well-balanced with a delightful bit of bitterness - a true expression of the terroir. 
500 ml