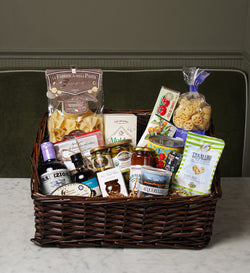 A curated selection of party provisions ~ Italian pantry staples, specialty snacks and imported confections ~ a generous host gift or feast for a family. Festeggiamo!
Includes: La Fabbrica della Pasta di Gragnagno (500 g), Benedetto Cavalieri pasta (500 g), Viola "Tradizione' organic olive oil (500ml), Acetaia San Giacomo Agro Di Mosto 2y (250ml), Seggiano Wild Fennel Tomato Pesto (200 g), Asaro Organic Whole Castelvetrano Olives (190 g), Terre di Puglia Taralli (230 g), organic wild fennel seed (60 g), Bianco di Napoli Tomatoes Tin (28 oz), San Pietro a Pettine White Truffle Acacia Honey (130 g), Maldon Sea Salt (250 g), Acquerello Risotto (250 g), Conservas de Cambados Razor Clams (111 g), Amedei Chocolate Bar (50 g), Drogheria Alimentari Organic Four Peppercorn Grinder (35 g), Mutti Tomato Paste (156 g), Agostina Recca Capers (106 g). Wrapped in cellophane and tied with our signature La Tana ribbon. 
If you would like to order 6 or more gift boxes or baskets please email events@saviovolpe.com or call 604-428-5462.
Please note that a product brand and/or flavour may differ from that pictured. Value of substitute items will be equal or greater.