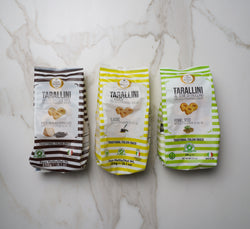 Terre di Puglia Taralli, various flavours
In the Apulian region of Italy (aka Puglia), taralli are the local crunchy bread snack, kept in every home's pantry as a must-have snack. Terre di Puglia uses only local ingredients to craft their perfectly crunchy, flavourful taralli.
Your choice of Classic, Cacio e Pepe or Fennel. 
230 g