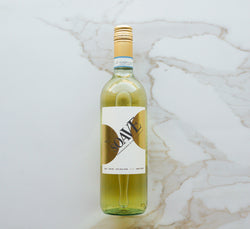 The Savio Soave is a collaboration between Savio Volpe and Cantine Tinazzi in the Veneto region of Northeastern Italy. We are pouring this wine at all 3 restaurants!
The label was designed in Vancouver by Glasfurd and Walker.
Soave is one of the most famous white wine appellations in all of Italy. The region stretches across the rolling hillsides just east of Verona and close to Valpolicella. This wine is a blend of 80% Garganega and 20% Trebbiano, aged in stainless steel.
It is light and fresh, with notes of blanched almonds, grapefruit, green apple, and white flowers. A great alternative for Pinot Grigio.
Grapes: Garganega, Trebbiano
Region: Veneto
Vintage: 2021
750 ml 
12% alc / vol