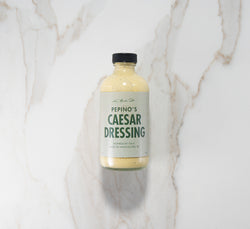 La Madia DV Caesar Salad Dressing
Pepino's version of the Italian-American fan favourite, credited to Italian immigrant Caesar Cardini, circa 1924.
For 'the pantry of the fox', La Madia della Volpe is our house line of Italian inspired pantry essentials made from scratch at 'La Tana della volpe'. 
Inspired by Italy, Made in Vancouver, BC.
Ingredients: olive oil, canola oil, garlic, egg yolk, anchovy, kosher salt, black pepper, capers, dijon mustard, Grana Padano, lemon zest, red wine vinegar, water.
8 oz