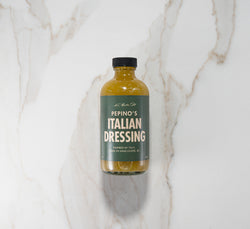 La Madia DV Italian Dressing
Pepino's tangy and tasty house Italian dressing.
For 'the pantry of the fox', La Madia della Volpe is our house line of Italian inspired pantry essentials made from scratch at 'La Tana della volpe'.
Inspired by Italy, Made in Vancouver, BC.
Ingredients: olive oil, canola oil, red wine vinegar, garlic, bay leaves, rosemary, oregano, kosher salt, sugar. 
Keep Refrigerated.
237 ml