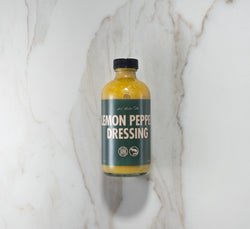 La Madia DV Lemon Pepper Dressing
Recreate Savio Volpe's signature kale salad at home with this tangy and flavourful dressing. 
From 'the pantry of the fox', La Madia della Volpe is our house line of Italian inspired pantry essentials made from scratch at 'La Tana della volpe'. 
Inspired by Italy, made in Vancouver, BC.
Ingredients: Olive oil, lemon juice, anchovy, garlic, black pepper, salt. 
8 oz