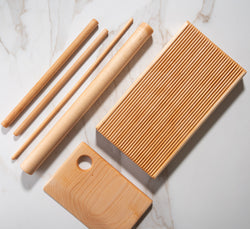 Wood Heirloom Pasta Tool Set - 6 Pieces
A versatile set of solid maple or beech wood heirloom pasta making tools - everything needed to make any hand made pasta shape.
A double sided pasta board - one side with a rolled column for trofie, maccheroni, fusilli, capunti, and more, the other with a traditional gnocchi board pattern, for gnocchetti, garganelli & rigatoni; a set of four matching mattarelli (rolling pins) from  1/4" to 1" in diameter; and a solid wood bench scraper. 
Finished with food safe mineral oil & a homemade blend of natural bees and carnauba wax. Includes a linen storage pouch for all.
Board dimensions: 5" wide x 9" high x 1" thick.

Made from real wood, no two will be identical.

Made in Vancouver.